Joan and Don Mead, their 50th Wedding Anniversary.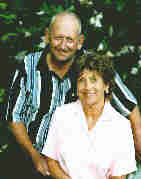 Hello from all of Mum and Dad's Children
Stephen,Grant,Mark,Blair,Jeff,Debbie,Diana
First of all I must say from all of us, and no doubt others that know you both, here is a very big CONGRATULATIONS on reaching your fifty years of married life together
Please excuse the haste this page was put together but I want to get the pics posted with out much fuss,so to check out the fun we all had. Just click on the name of the picture.